Danadim Progress
Fully Systemic Insecticide and Acaricide
Danadim ProgressTM is a stablised dimethoate formulation offering control of a wide range of pests including Hemiptera, Thysanoptera, Coleoptera, Diptera, Lepidoptera and Acari. Danadim Progress works upon contact and ingestion as insects feed on the treated plants. At the time of application the contact action gives a rapid kill of pests present and control will continue for up to 14 days due to the systemic activity of the product.
Systemicity
Following application, the Danadim Progress is quickly absorbed by the plant tissue and is then translocated within the plant. In this way the product can also control pests feeding on the underside of the leaf, even though the product is applied on the upper leaf surface.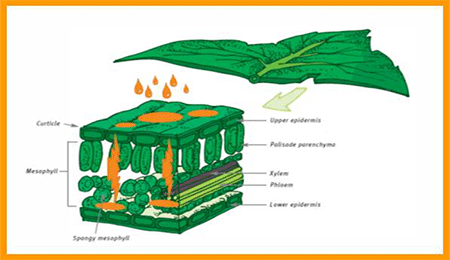 Crops
Danadim Progress is a proven and powerful insecticide for use in a very wide selection of crops including orchards, vegetables and many row-crops. However, the main crops are cereals, vegetables, olives and citrus.
For details on specific uses, please contact Cheminova.
Stabilised Formulation - reduced odour and tox 
Many traditional dimethoate formulations are unstable because they degrade over time and form toxic breakdown products such as isodimethoate which produce a bad odor, cause increased toxicity and reduced insecticidal activity. In the development of Danadim Progress, Cheminova has developed and patented a new stabilized formulation to inhibit degradation maintaining efficacy and reducing product toxicity.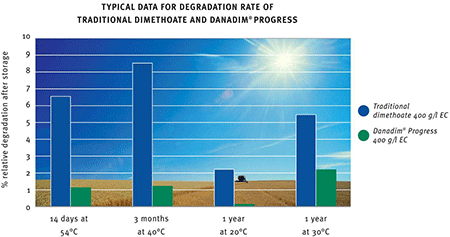 Danadim Progress
Slow degradation of active ingredient even under hot climatic conditions
Improved tox profile
Fewer impurities and more dimethoate
Less solvent
Reduced odour
Nonylphenol free
A known systemic and reliable compound
No cross resistance to pyrethroids
Danadim Progress also commonly marketed under the brand RogorTM